In a week that featured the Zatopek:10 in Melbourne, it was an indoor performance in the USA that stole the limelight.
It came from NSWs Charlie Hunter, who set a new Australian indoor record in the mile with a run of 3:54.54. Competing for the University of Oregon at the Razorback Invitational in Fayetteville, Arkansaw, Hunter's winning mark bettered Mark Fountain's 3:54.77 set 16 years prior.
The day prior, Hunter ran a 1:47 800m leg in a distance medley relay (1200m, 400m, 800m, 1600m) that set a new world indoor best of 9:19.42.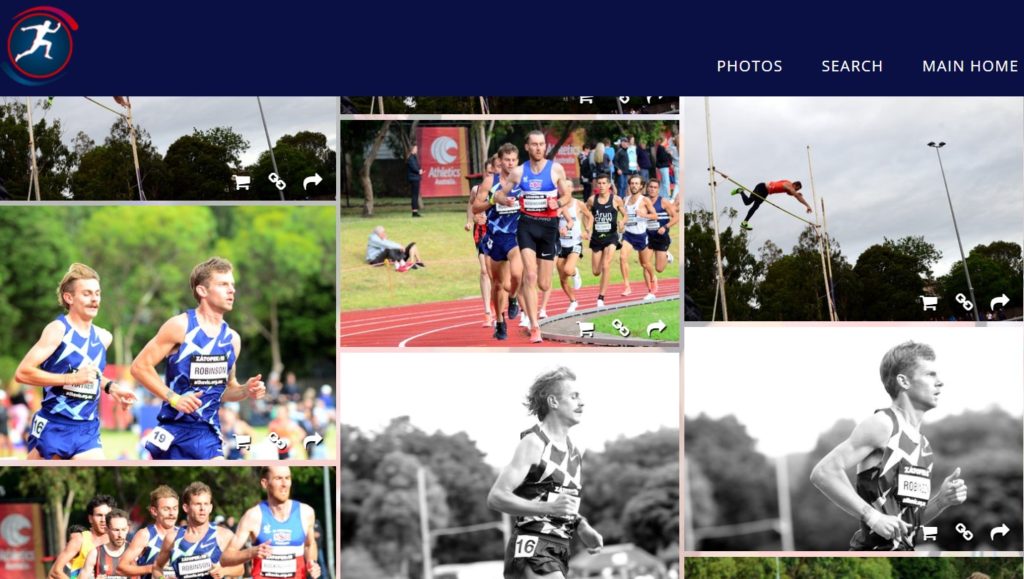 At the Zatopek:10, the first Australian champions were crowned since the COVID-19 pandemic struck, with Rose Davies (31:39.97) and Brett Robinson (28:00.25) taking the honours. Davies' performance moved her to seventh on the Australian all-time list. However, the standout performance of the meet came from Linden Hall, who narrowly missed the Olympic qualifying standard with a 4:04.35 1500m run, while Jenny Blundell (4:07.71) and Keely Small (4:07.89) were also impressive in taking the minor places. Read our full Zatopek:10 recap here.
Nina Kennedy continued her impressive form this season, recording another Olympic qualifying mark with a 4.70m clearance in Perth.
Elsewhere in field event action, Alexander Kolesnikoff set a new NSW record to move to seventh on the Australian all-time list in the shot put with a 19.51m performance at Mingara Interclub on the NSW Central Coast.
Also at Mingara, Monique Quirk ran a new personal best of 11.51 seconds over 100m, which was marginally quicker than Riley Day's 11.54 seconds in Brisbane. However, it was Brianna Beahan (11.48s) and Tayla Cruttenden (11.49s) who were the fastest 100m runners of the weekend with runs in Perth.
Even more impressive was Ella Connolly, who moved to 16th on the Australian all-time list in the 200m, breaking 23 seconds for the first time with a 22.96 second run a the Joanna Stone Shield in Brisbane.

Zatopek:10
Hagenauer Reserve, Box Hill
27 January 2021
Full results
Meet recap
Photo gallery
WOMEN
800m Catriona Bisset 2:02.75, Brittany Kaan 2:04.13
1500m Linden Hall 4:04.33, Jenny Blundell 4:07.71, Keely Small 4:07.89
10000m Australian Championship Rose Davies 31:39.97 (#7 Australian all-time), Isobel Batt-Doyle 31:43.26, Andrea Seccafien (CAN) 31:45.95, Genevieve Gregson 32:06.31, Lauren Ryan 32:16.11, Sinead Diver 32:36.15, Ellie Pashley 32:51.42, Leanna Pompeani 32:54.78, Tara Palm 32:56.39
400m H Sara Klein 57.03, Genevieve Cowie 58.53, Marli Wilkinson 59.62
MEN
800m Jeff Riseley 1:48.11
1500m Jordan Williamsz 3:39.59, Ryan Gregson 3:39.85, Callum Davies 3:40.91, Peter Bol 3:42.05, Matthew Clarke 3:42.64, Jaryd Clifford 3:42.64 (T12 World Record)
10000m Australian Championship Brett Robinson 28:00.25, Jack Rayner 28:13.42, David McNeill 28:16.86, Ed Goddard 28:23.93, Andrew Buchanan 28:35.11, Tom Do Canto 28:35.69, Riley Cocks 28:45.50, Kieran Tall 29:03.68, Tim Vincent 29:06.12, Adrian Potter 29:15.13, Andre Waring 29:23.67, Jacob Cocks 29:46.46, Ben Kelly 29:47.57
400m H Conor Fry 51.32, Fraser Symons 51.36
Long Jump Darcy Roper 7.96m (1.0), Christopher Mitrevski 7.72m (0.1)
Razorback Invitational
Fayetteville, USA
29-30 January 2021
Full results
MEN
Mile (indoor) Charlie Hunter 3:54.54 (Australian Record)
Mingara Interclub
Mingara Athletics Track
30 January 2021
Full results
WOMEN
100m (1.2) Monique Quirk 11.51, Bronte Carroll 11.89
200m (0.0) Monique Quirk 23.58, Larissa Pasternatsky 23.85, Bronte Carroll 23.91
100m H (1.5) Imogen Breslin 13.65
Triple Jump Desleigh Owusu 12.81m (1.3),
High Jump Rosie Tozer 1.82m
MEN
100m (0.0) Joshua Azzopardi 10.58, Anas Abu-Ganaba 10.58
200m (0.8) Anas Abu-Ganaba 20.96
Long Jump William Freyer 7.56m (1.0)
High Jump Marco Fassinotti (ITA) 2.15m, Sean Szalek 2.10m, Darcy Holmes 2.10m, Nicholas 2.10m
Shot Put Alexander Kolesnikoff 19.51m (#7 Australian all-time)
Javelin Cameron McEntyre 76.29m
Joanna Stone Shield
Queensland Sport & Athletics Centre – Main Stadium
30 January 2021
Full results
WOMEN
100m (0.3) Riley Day 11.54, Kristie Edwards 11.73, Torrie Lewis 11.76, Grace Hewitt 11.82, Sam Johnson 11.90
200m (0.6) Ella Connolly 22.96, Kristie Edwards 23.92, Ellie Beer 23.93
Discus Taryn Gollshewsky 56.03m, Jade Lally 55.79m, Lyvante Su'emai 50.65m
MEN
100m (0.2) Jake Doran 10.50, Alex Hartmann 10.55, Aaron Stubbs 10.60
200m (2.4) Jake Doran 20.99, Alex Hartmann 21.01
Triple Jump Shemiah James 15.68m (1.2), Julian Konle 15.64m (0.0)
WA Multi-event Championships and Go for 2 & 5 Program A
WA Athletics Stadium
30 January 2021
Full results
WOMEN
100m (1.9) Brianna Beahan 11.48, Taylah Cruttenden 11.49
100m H (2.2) Brianna Beahan 13.18
Pole Vault Nina Kennedy 4.70m (Olympic qualifying standard), Elizaveta Parnova 4.45m
MEN
100m (1.9) Aaron Bresland 10.47
Pole Vault Kurtis Marschall 5.60m, Angus Armstrong 5.20m
Supernova 5ish 10,000m Track Walk
Collingwood Athletics Track
30 January 2021
Full results
WOMEN
10000m W Jemima Montag 43:35.2, Bec Henderson 46:25.4, Katie Hayward 47:17.2
MEN
10000m W Rhydian Cowley 39:58.1, Declan Tingay 40:31.2, Kyle Swan 42:17.2
Summer Series No. 10
Woden Park Athletics Track
30 January 2021
Full results
WOMEN
100m (2.0) Helen Pretorius 11.71
200m (1.4) Helen Pretorius 23.93
MEN
400m H Angus Proudfoot 51.75
Do you know of any results we are missing? Please contact us – additions or corrections are warmly welcomed.

Recent posts: