Cover image of Jake Doran by Steve Christo (courtesy of Athletics Australia)
Take a look at the events that could make or break World Championship qualification for Australian athletes.
CONTENTS
Why are the Oceania Championships important?
The Oceania Championships take place in Mackay from next Tuesday through to Sunday, 7-12 June. The event is an Area Championship of equal standing (but not standard) as the European Championships, which has a number of important consequences within World Athletics' qualifying rules for the World Championships:
The winner in each track event (except for 3000m steeplechase and 10000m) are considered as having met the qualifying standard for the World Championships;
The winner in all other events (field, multis, 3000m steeple and 10000m) are considered as having met the qualifying standard for the World Championships, subject to assessment by the World Championships Technical Delegate;
The event has GL Category status for World Athletics Rankings, which means premium placing points.
Unless things change for the 2023 World Championships qualifying, it would be expected that points scored at the Oceania Championships in 2022 would remain in contention for next year.
The Australian selection period for the Commonwealth Games closes at the end of the meet.
Those are the general implications for the event, but are constrained by Athletics Australia's Selection Criteria for the World Championships. For absolute clarity, Athletics Australia's Selection Policy states that they "will not automatically accept the qualification of the Area Champions." So, to be considered for remaining discretionary selections, the Oceania Champion must still qualify in the field size on the World Athletics Ranking lists; or have otherwise achieved a performance better than the entry standards.
We'll therefore consider in this article the Oceania Championships just through the lens of what it means to accrue World Rankings Points.
How do the ranking point work?
There are points given for the result and placing in various competitions.
The result points accrued are based on the quality of performance, assessed by the World Athletics Rankings Tables. These are the same regardless of where the competition takes place. As an example, using the women's 100m: a 11.20s run scores 1156 points, compared to a 11.53s scoring 1084 points. And that's the case whether you run the time at the Olympics or interclub.
There are then placing points, for the finishing position in an event. These vary based on the status of the competition. Here's a comparison of how this works, highlighting the premium that the Oceania Championships commands:
| Category | GL | B | C |
| --- | --- | --- | --- |
| Example | Oceania Championships | Australian Championships and Brisbane Track Classic | Sydney Track Classic and Melbourne Track Classic |
| 1st | 170 | 100 | 60 |
| 2nd | 145 | 80 | 50 |
| 3rd | 130 | 70 | 45 |
The result points and ranking points in a competition are combined into a performance point for the athlete for that event.
Using our earlier 100m example, winning the Oceania Championships in 11.53s scores the same amount of points as winning the Australian Championships in 11.20s.
The top 5 performances (or top 2 or 3 in a few events like steeplechase, 5000m, 10000m, multi-events) are then averaged, to produce the athlete's World Athletics Ranking Score.
Clearly, if a quality performance is recorded in winning the Oceania Championships, it will significantly boost an athlete's overall Ranking Score. But even not so great performances are boosted significantly by the placing score.
If you want to check out where all Australian athletes are currently ranked, we have a separate article that we update fortnightly.
Let's get specific
We'll run through a couple of events and athletes where the Oceania Championships performance could virtually lock in their World Championship qualification. There's lots of permutations and combinations that we won't get bogged down into and offer conservative estimates – not predictions – to demonstrate the magnitude of the opportunity available.
All comparisons to ranking improvements are made on the assumption there are no changes to international athlete ranking scores, which is unrealistic but the best comparison that we can currently make.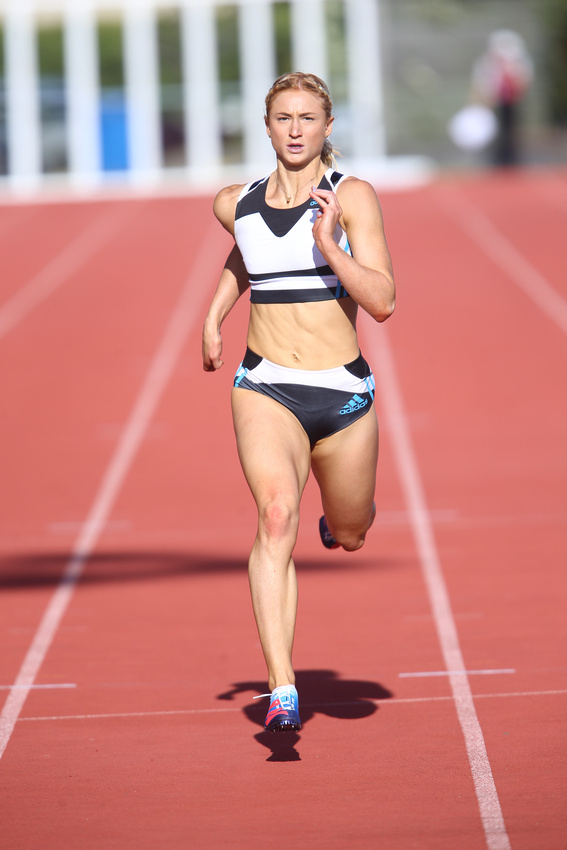 100m & 200m: Ella Connolly
The Australian champion is currently ranked within the qualifying quota in the 100m (38th of 48) and 200m (41st of 56).
The Queenslander's main competition will be from New Zealand's Zoe Hobbs, Liv Wilson and fellow Australian Bree Masters in the 100m, and Australia's Jacinta Beecher (already qualified) and New Zealand's Georgia Hulls in the 200m.
Connolly will improve her ranking scores by scoring at least 1165 points in the 100m and 1146 points in the 200m. Those scores can be obtained with a third place finish and tame performances of 11.78 seconds and 24.20 seconds. If she instead replicates the 23.64s she ran on the Gold Coast last week, she will solidify her 200m ranking position -she is currently the second ranked athlete who hasn't achieved the 22.80s qualifying mark. In the 100m, a 11.57s third place would move her to 35th place for qualifying for the 48 woman field.
800m: Tess Kirsopp-Cole and Claudia Hollingsworth (against in-form 1500m runner Abbey Caldwell)
Tess Kirsopp-Cole is the national bronze medallist and currently ranked 37th for a field of 48 for Oregon.
Claudia Hollingsworth is the national silver medallist, but ranked outside the 48 woman quota in 55th place. She is set to line up over 1500m at the World Junior Championships a fortnight after the World Championships.
1500m national champion and world championship qualified Abbey Caldwell also lines up. She doesn't have a ranking over 800m currently but is in great form, so will be a contender for the title.
Here's what a win for each of the athletes above, in 2:03.00, would mean for World Championship qualifying eligibility:
Kirsopp-Cole: Would move to 35th place, solidifying her quota position. Will improve her ranking score with at least an 1118 point performance, which can easily be achieved by finishing better than third and/or running faster than 2:10 (that's not a typo for 2:01: we mean two minutes, ten seconds. The value of placing points at the Oceania Championships is considerable).
Hollingsworth: Would move into 36th place, into the qualifying quota. Will move into the qualifying quota with at least an 1108 point performance, similar to the 2:10/third that we've outlined above for Kirsopp-Cole.
Caldwell: will establish a World Ranking in the event, but that would be around 1115 points which currently places about 65th in the world.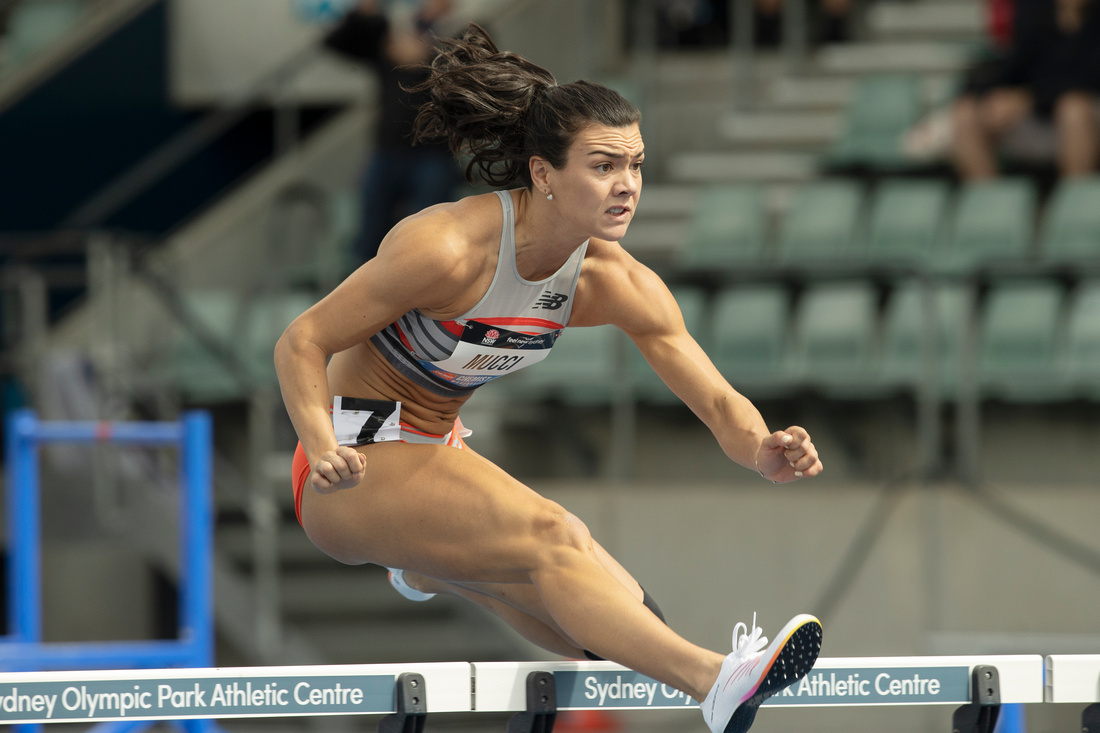 100m hurdles: Celeste Mucci vs Hannah Jones vs Michelle Jenneke
This might ultimately be a situation of 4 not going into 3, with Liz Clay already selected via meeting the qualifying standard.
Mucci (27th) and Jones (40th) are currently within the 40 woman quota for the event, with Jenneke just outside at 41st.
The winner of the Oceania Championships will likely amass enough points to stay within the quota at the end of the qualifying period, through that performance alone. We say that based on the assumption that at least 13.20 seconds will be run to win, which scores a huge 1293 points. That would following impact on rankings:
The following runs would also see relevant improvements:
Mucci: Will increase her ranking points, but not rank, with a run of at least 13.58s finishing third.
Jones: Will increase her ranking points, but not rank, with a run of at least 14.02s finishing third.
Jenneke: Will move into a quota position and ahead of Jones in the quota if she outperforms her by 6 points. So essentially, if Jenneke finishes ahead of Jones she will move ahead of her for qualifying eligibility.
3000m steeplechase: Brielle Erbacher vs Cara Feain-Ryan
This will be a race in two. We don't mean that figuratively, but literally: they are the only two athletes entered in the event.
Both currently have quota positions at 33rd (Erbacher) and 36th (Feain-Ryan) for the 45 woman field for Oregon. Those positions are effectively a position higher too, given that qualified Genevieve Gregson is about to welcome her first child into the world, and won't be running at the world championships.
In the 3000m steeplechase, only three performances are needed for a World Ranking, instead of the five required in most other events. So as long as Erbacher and Feain-Ryan both finish the event in under 9:50, they will amass a huge number of points, enough points to move to 30th/31st place and be the top one or two athletes who haven't met the qualifying standard.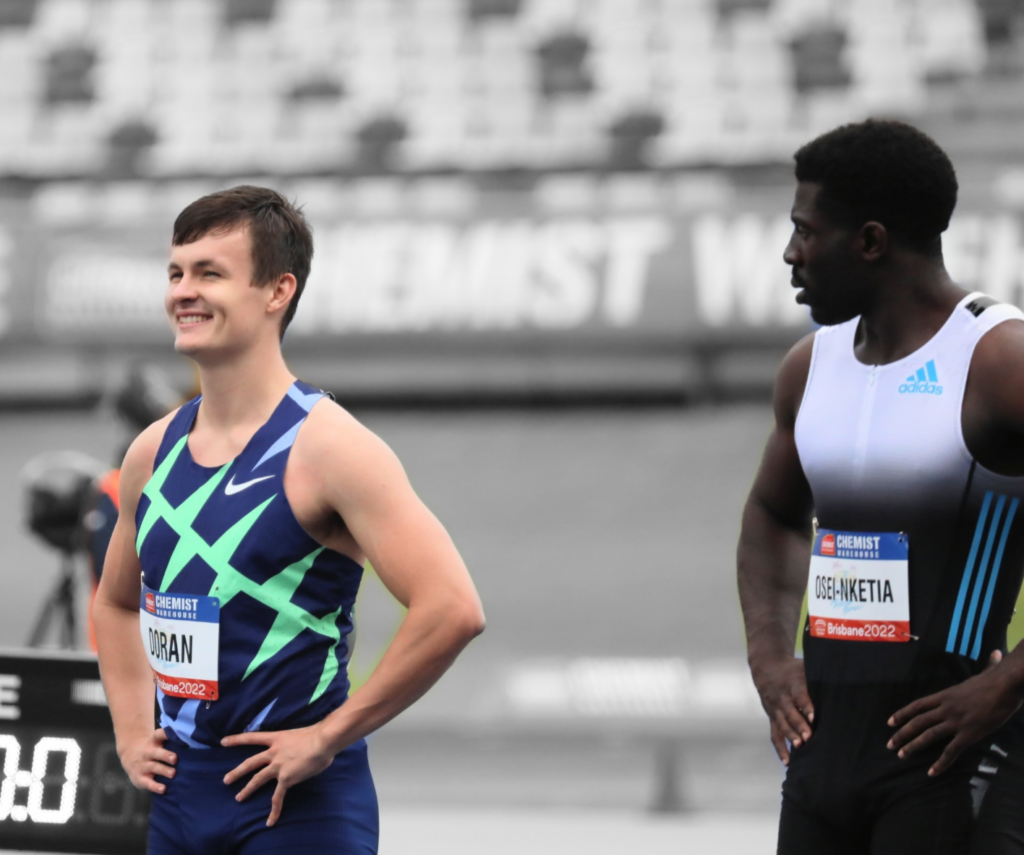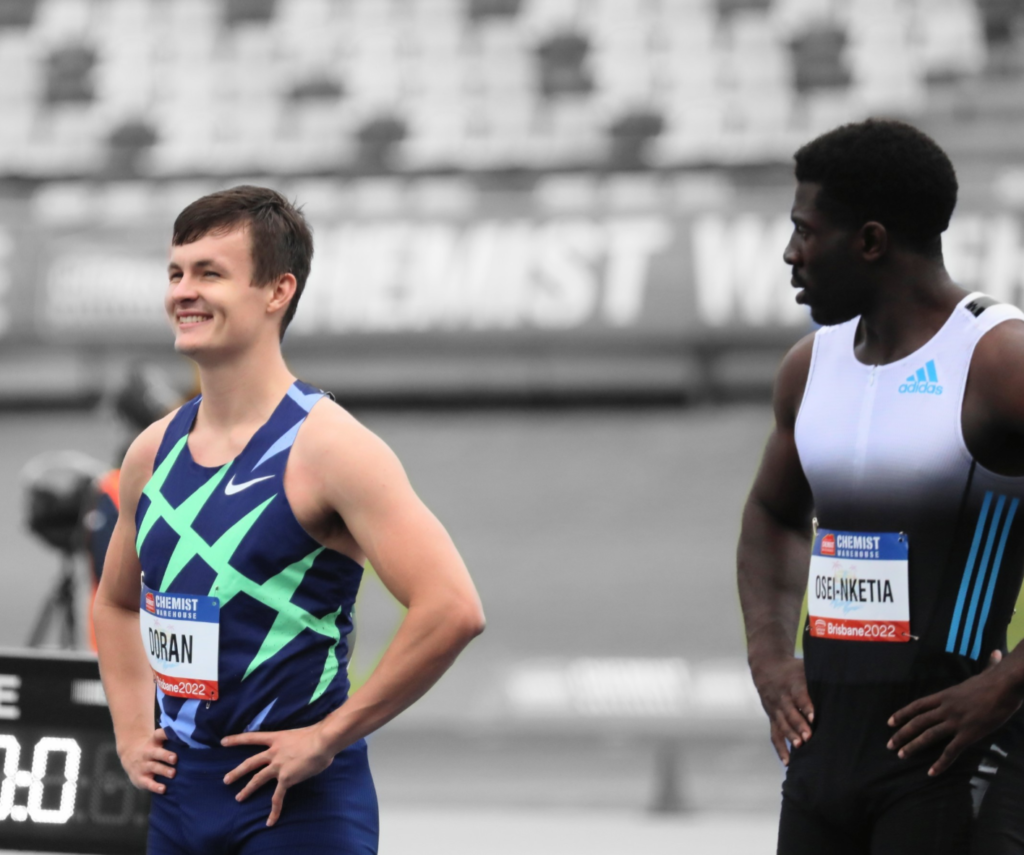 100m: Jake Doran, Joshua Azzopardi, Jack Hale (and Jacob Despard)
Currently, only national champion Jake Doran features on the World Athletics Rankings for qualifying purposes of the Australians lining up in Mackay. He's just within the 48 man qualifying quota, in 47th place. Doran will improve his ranking score with at least a third place finish in 10.70 seconds (again, not a typo ten-point-seven). A run of 10.30s and third would move him up to 38th place, and a win in 10.20 seconds into 35th place.
Joshua Azzopardi was second at the Australian Championships and sit in the top 70 currently for World Championships qualifying. However, if he were to win the Oceania Championships in a time equal to his 10.30 seconds personal best, he would just sneak into the qualifying quota in a similar position to what Doran currently has.
Jack Hale, third at nationals, has a slightly better starting point in the rankings than Azzopardi, so a 10.30s win would move him to 45th in the quota.
Of course, all of these things are easier said than done, particularly with New Zealand athletes Edward Osei-Nketia (currently 45th in the world) and Tiaan Whelpton (10.21s last week on the Gold Coast) also in the field.
And to add intrigue to an already complicated scenario, there's the possibility that the winner of this race at the Oceania Championships might be an invitational athlete: Jacob Despard. Despard was sixth in the 100m at the Australian Championships, but just this morning in Mackay ran a new personal best of 10.29 seconds (+0.6) to defeat Osei-Nketia. Despard's placing at the Oceania Championships will be excluded from rankings calculations by World Athletics.
200m: Juniors Aidan Murphy & Calab Law up against Doran
Aidan Murphy and Calab Law are set to compete at the World Junior Championships, but might they also qualify for the World Championships? And if not this year, the qualifying points on offer for next year are significant.
Murphy is currently ranked 34th for the 56 quota field, with Law 49th. Jake Doran is just outside the quota at 58th.
A 20.70s win would generate 1282 performance points, having the following impact on rankings
Murphy: 30th place
Law: 36th place
Doran: 40th place
400m: Steve Solomon set to establish a ranking vs Alex Beck
Two-time Olympian Steve Solomon doesn't currently have a World Ranking, with only four performances on the board. The Oceania Championships will be his fifth, which should lock him in for selection. Even a 46.50s, second-place finish would see his World Ranking at around 1177 points and 35th in the 48 person quota.
Olympic team mate Alex Beck is currently in the quota at 37th place and will improve his ranking by at least one place with a minimum third-place, 47.48s run. A 46.50s and second-place would see a move to 30th place.
110m hurdles: Nick Hough and Nick Andrews
Nick Hough is within the 40 athlete quota in 31st place, just one place behind Chris Douglas (who isn't competing in Mackay). Nick Andrews is outside the quota, in 47th place.
Hough will improve his ranking by at least one place if he runs at least 14.18 seconds and finishes second. If he runs 13.80s and wins, he'll move to 26th place.
Andrews has a harder task at hand, but not insurmountable. At a minimum, to move into the quota he needs a performance score of 1238 points, which is equivalent to finishing second in 13.85 seconds. A win in time equal to his 13.59 second personal best would move him into 36th place.
High Jump: Joel Baden and Yual Reath
National silver medallist Joel Baden is ranked 21st for the 32 quota field, while national champion Yual Reath is in 32nd place.
Baden improves his ranking to 20th if he comes at least second with a jump of 2.17m or more.
Reath improves his ranking to 31st place if he comes at least second with a jump of 2.07m.
Assuming a 2.22m winning height, there would be the following impact on rankings:
Baden: 19th place
Reath: 20th place
Triple Jump: Ayo Ore vs Julian Konle
Both Ayo Ore (40th) and Julian Konle (43rd) are outside the quota, but can an Oceania Championship win get them into the top 32?
The short answer is yes. The longer answer is that there's a challenge to then stay within the quota the end of the qualifying period.
But first things first. Starting with Ore:
He will move into the quota (in 32nd place) if he finishes second with a jump of at least 16.02m.
If he wins in 16.26m (the same mark he set last week on the Gold Coast), he'll move to 29th or 30th in the list.
Konle has a bigger effort ahead of him to move up the rankings, with a win in 16.25m needed to slide into 32nd place. If he wins in 16.56m (the mark he set a few weeks ago in the US), he will move to 31st place.
Other performances to keep an eye out for
Here's a few other results that will be relevant:
Javelin: A world class contest between Olympic finalists Kelsey-Lee Barber and Mackenzie Little.
400m hurdles: Olympian Sarah Carli in in 37th place for the 40 woman quota. A win in 57 seconds will see her move up to 31st place.
Long Jump: National champion Samantha Dale is just within the 32 woman quota, in 32nd place. A win in 6.60m would move her to 20th place.
Hammer: Alex Hulley is in 30th place for the 32 strong field. She will improve her ranking by at least one position if she finishes second with a throw of 64m or more.
Long Jump: National champion Christopher Mitrevski is ranked 21st for the 32 quota field. He'll sure up his place in the quota with any result of third place/more than 7.55m. If he wins in 8.08m, he'll move to 20th place in the rankings.
Javelin: National champion Cameron McEntyre is also 21st ranked for a 32 quota field. He'll move up to 20th place if he can record a performance score of 1153 points, which only requires a third place in 74.50m.
Decathlon: Daniel Golubovic has a best performance just 16 decathlon points short of the qualifying standard of 8350 points. He is currently ranked 24th on quota in the field of 24. He will improve his ranking to 23rd if he wins in a score of 7776 points, and will become the highest ranked non-qualified athlete (19th) if he wins in a score of 8224 points or more.
It's rare that we get to see an Australian team in action in the green & gold on Australian soil. Look at this year's Australian Junior team and look back at the 2019 Oceania Championships in Cairns.
Meet Australia's team of 60 athletes, the largest ever for the World Athletics Under 20 Championships.

The Oceania Championships have always been about providing opportunity.
Latest posts: