15-year-old Gout Gout has eclipsed the Australian U18 200m record jointly held by Darren Clark, Paul Green and Zane Branco.
Cover photo of Gout Gout in action at the Australian All School Championships in December. Photo courtesy of Athletics Australia.
Gout stopped the clock at 20.87 seconds (-0.1 m/s) in winning the event at the Australian U18 Championships in Brisbane.
Clarke, twice fourth placegetter in the Olympic 400m, Green and Branco were jointly recognised as the previous record holders at 20.90 seconds and were all a year older than Gout when they set their marks. Gout will turn 16 in December.
"It means a lot because I've been training so much for this. I was really nervous. The gun went, and I was good and I just kept pushing." Gout said.
"Di [Diane Sheppard] is the best coach ever, I love her, and my training group are the best supporters ever – I couldn't get here without them."
"It's like you can't feel any ground contact, it feels like you are floating. This season has been mind blowing for me. Last year I came fourth and sixth at Nationals, and then I came out at All Schools and won. I was really motivated because I took last year personally, it always feels better when you are winning," Gout said.
Gout holds the Australian U16 records over 100m (10.57) and 200m (21.14) and lines up in the 100m tomorrow, where he will attempt to better his personal best of 10.43 seconds. The Australian U18 100m stands at 10.27 seconds, set last year by Sebastian Sultana.
"Hopefully I can run another personal best, but anything can happen. As long as I get my start down, we will go from there," Gout said.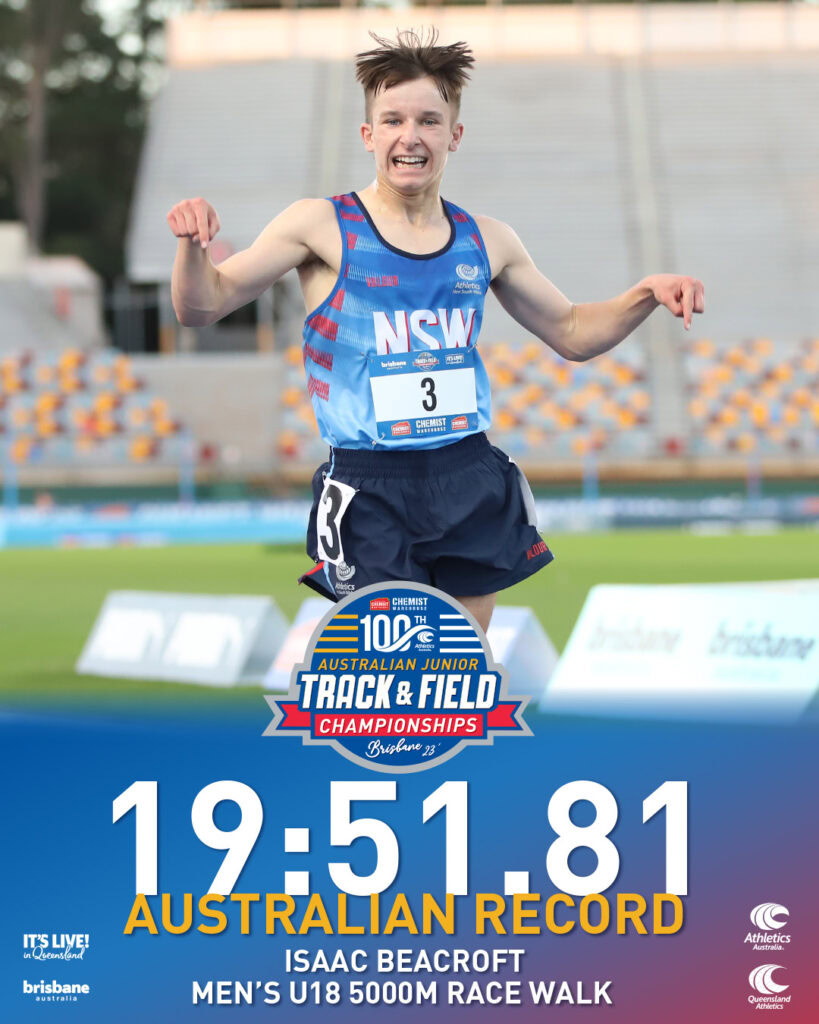 Also in record breaking shape was NSW's Isaac Beacroft, who slashed 15 seconds from the Australian U18 5000m Walk record held by Troy Sandstrom.
"I haven't done a 5k in three and a half years or something, but I did a training walk the other day at Parkrun and did 20:20 so I felt pretty good," Beacroft said.
Beacroft had also broken a national U16 record last year, in the 3000m Walk, and is a talented athlete with the prospect of an AFL career.
"When everything is good; on Monday I do a walk session on the track, Tuesday I have two hours with the GWS Giants Academy, Wednesday a running set, Thursday more AFL, Friday a walks session, Saturday either rest of something hard, and then Sunday is a long run."