In 139 editions only six men have ever won the Stawell Gift off a handicap mark of 4 metres or less.
This Easter sees 14 men line up under that mark in the iconic 120m event held in the Victorian town of Stawell. Amongst them is almost the complete set of medalists over 100m and 200m at the recent Australian Championships, with only 100m bronze medallist Joshua Azzopardi missing.
Similarly the women's Gift features a deep field of elite athletes: 3 of the 4 women that were part of the second fastest ever Australian 4x100m team at last month's Melbourne Track Classic will line up. Only national champion Ella Connolly won't be there.
So what are their chances of winning?
The theory
The idea of handicapped races is that all athletes are provided a mark to even out differences in ability. Athletes who are slower essentially receive a head start, covering less distance in the race.
In theory, each athlete then has an equal chance of winning.
So with 132 men in the Gift field, arguably there's 14/132 = 10.6% chance of one of the men with a mark of 4 metres or less crossing the line first.
However, in reality, while all sprinters are equal, some sprinters are more equal than others.
The handicapping process
Part art, part science, this is a human process and fallible. The bookmaking ring at Stawell would be a very dull place if everyone was able to be precisely handicapped with an even chance. Starting odds of $1.01 on each runner please?
And when you think about it, what the punters are really assessing at Stawell isn't who they think will win, but how wrong they think the handicapper is. From that, some athletes will have a much greater chance of winning. Of course, they then have to do it, which is still not an easy task, with the pressure of the rarified atmosphere of the event sometimes getting to the 'favourites.'
A lot of the handicap process is designed to address a fundamental tension: the handicapper tries to produce an even field, but each athlete has a huge incentive to hide their true ability.
If you want to read the exact detail of how fields are handicapped, you can here on the Victorian Athletic League website. A lot of the process is designed to address a fundamental tension: the handicapper tries to produce an even field, but each athlete has a huge incentive to hide their true ability (e.g. $40,000 each for the winners of the men's and women's Gifts, more than a majority of Australia's Olympic athletics team make in a whole year within the sport).
If an athlete might receive a handicap that is more generous than their ability, they will have a greater chance of winning. Some athletes take advantage of that situation, ranging from ensuring they race exhausted in lead in events, to as complex as orchestrating a betting plunge with their training stable at the event. On one hand, there's the possibility of activities that border on being a criminal offense (since 2013 it's been illegal in Victoria to corrupt the betting outcome of a sporting event). On the other hand, there's something about the anti-authoritarian, Australian larrakin culture, that absolutely embraces the underdog beating the system. This dynamic is part of what makes Stawell unique in athletics and Australian sport.
The history
Until 1984 in Australia, if you ran in a 'professional' athletics event for prize money, such as the Stawell Gift, you risked being banned from 'amateur' athletics. In theory, no athlete in the history of the Olympic Games, IAAF (now World Athletics) or associated competition ('amateur' athletics) ever received appearance fees or prize money for their performances, or they were banned from the sport. We could digress on the merits, or lack thereof, of this, both philosophically and in practice, but that's a topic for another day.
However, what was clear was that that to overtly race for money was not on. So Australia's top sprinters, of Olympic talent, didn't race the Stawell Gift for much of the event's history. That changed in the early 1980s where athletes like John Dinan (1980 Gift winner) and the late Chris Perry (1982 Gift winner) were allowed to race in amateur ranks, with both ultimately gaining selection in the 1986 Commonwealth Games. Conversely, athletes from the amateur ranks such as Dean Capobianco won the Stawell Gift in 1990.
Nowdays, the term 'pro' is as a misnomer as 'amateur' is for Australia's elite athletes. The community that runs Gift events throughout the year are as grassroots as any sport gets, with some prize money on the side. But all roads lead to Stawell, where the two cohorts converge.
This year's fields
Would it surprise you that the median winning handicap mark across the history of the Stawell Gift is 8 metres? Before open competition was allowed in 1984 the median was 9 metres. Since 1984 with open competition, it's 7 metres.
That shift over the past four decades is possibly the result of more of Australia's faster sprinters competing in the event, as well as the limit mark being set at 10 metres. But if you look at this year's field, it's clear that there are far more athletes close to the limit than there are to scratch:
The median mark is 7m
The middle 50% of the field have a mark between 5.75m and 8m.
And regardless of any shenanigans that some athletes might get up to, to try to beat the handicapper, it's also true that to improve a metre for a 8 metre handicap runner is a lot easier than for a runner off scratch to do the same.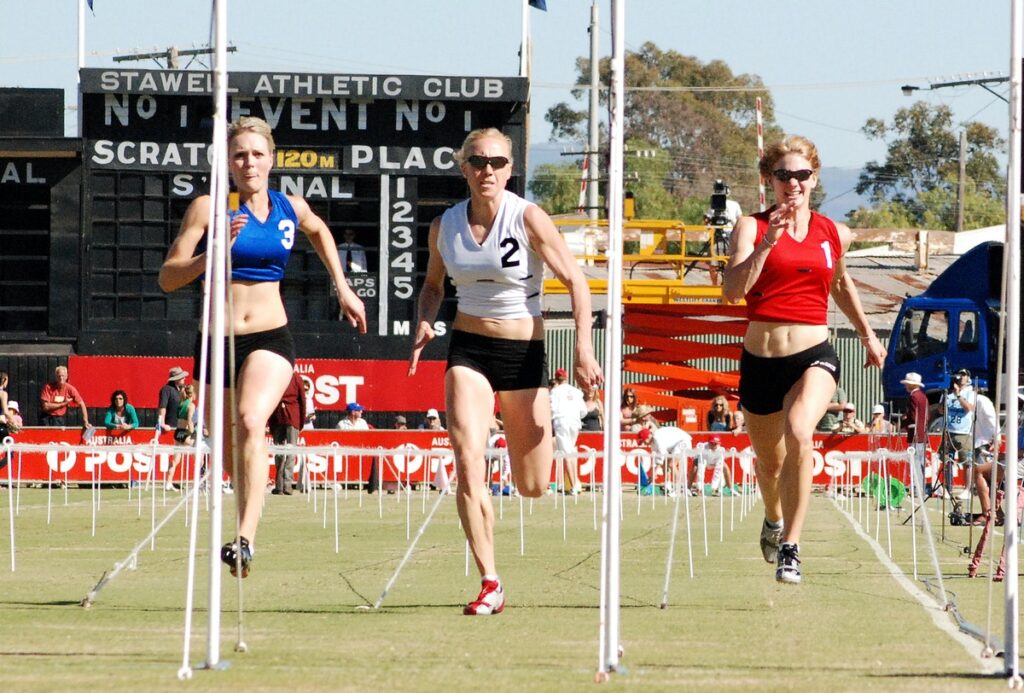 It's not dissimilar in the women's Gift, which dates back to 1989 and which has only had prize money parity with the men's event since 2015. The median winning handicap has been just over 10 metres, with only two women winning from 4 metres or less.
So what are the chances for Australia's Fastest Sprinters?
It's hard to tell. But let's look at their chances just relative to each other.
The back markers, off scratch, are New Zealand's Edward Osei-Nketia in the men's event and in the women's, 17-year-old Australian junior 100m/200m champion Torrie Lewis and open 100m silver medallist Bree Masters.
Osei-Nketia was beaten by Jake Doran in their last two races. Doran ran a wind-assisted 10.05 seconds to equal the Australian Championships meet record and a 10.28 seconds into a 1.5 m/s headwind at the Brisbane Track Classic. One would suspect that with a 0.5 metre head start on Osei-Nketia that he would have a pretty good chance of winning in a theoretical head-to-head.
Head-to-head twice over 100m during the season, Lewis beat Masters on both occasions, but by 1/100th and 3/100ths respectively. Over 200m they lined up four times, with Lewis finishing ahead of Masters on three occasions. So they are pretty evenly handicapped, with Lewis perhaps marginally favoured.
We could continue with this pairwise analysis throughout the whole field but it becomes quite tedious and more challenging as we progress. So instead, let's look at a few graphs. We've presented each of the backmarkers 100m season's best, 200m season's best, World Athletics Rankings Score for 100m and similar for 200m all graphed against their handicap mark. To aid with interpretation, where an athlete appears on the plot above the trendline, it suggests that their mark is favourable compared to these other backmarkers (based on that metric alone).
What to make of all of this? That a handicapper's job is really tricky!
But as an observation, Michael Hanna and Connor Diffey, both sub 20.9s this season over 200m, look dangerous off marks of 3.75m and 4m respectively. Hanna's 100m form also looks comparatively strong against his mark.
In the women's, Olivia Matzer, with a 11.66 season's best and off 2.75m, could be in contention with the likes of Lewis and Masters.
Who is our tip to win the men's race? Probably none of the above, but instead a runner off a mark of around 7 metres who will improve to run 10.60 for 100m next season!
Athletes who have won the Stawell Gift off a mark of 4 metres or less
MEN
Jean-Louis Ravelmanatsoa: Scratch in 1975
Joshua Ross: Scratch in 2005
Warren Edmonson: 1.25m in 1977
Dean Capobianco: 2.25m in 1990
WJ Millard: 3 yards in 1878
George McNeill: 4m in 1981
WOMEN
Melissa Breen: Scratch in 2012
Jennifer McGibbon: 4m in 2001
Recent posts: