A Para athlete with a bargain shirt from DFO, a photographer inspired by his late grandfather and Sydney's premier athletics meet. Here's the story behind the winning entry in the Best Field Photo category in the recent Inside Athletics Photo Competition.
The image was voted the winner by a popular vote of visitors on our website.
Here's how the photo came about…
Meet Marty Jackson (if you haven't already). The 45-year-old hot-rod building, BBQ-meat-smoking-loving shot putter from Geelong is a Para athlete in the F38 class, with a World Para Athletics Championships bronze medal and Commonwealth Games silver medal to his name. He's been involved in athletics just short of a decade following a gridiron injury, where he dislocated his knee. The injury caused sensory loss and partial paralysis to his left leg.
A loss for gridiron, a gain for athletics. Get to know Marty a bit more through this 2019 video from Athletics Australia.
Marty also doesn't mind a bit of colour around the shot put circle, particularly in the shirts he wears.
"I love finding the shirts you can only wear doing while competing," he said, in reference to the orange and black shirt he wore at the Sydney Track Classic.
"It was a $20 tee that I got from Puma DFO, because no one would buy it!"
So how did Marty come to be the hero of the photo? Meet Flynn Hopkins, the Canberra-based photographer who was on assignment for Inside Athletics to cover the Sydney Track Classic.
Flynn knows his way around both a camera and an athletics track. He started photography a couple of years after Marty started shot put, as a 14-year-old. It was a way to connect with his grandfather, who was a passionate photographer.
"I had this very dodgy digital camera that had very limited settings but it was enough to learn on. I took in as much information as I could and practised a lot. I loved being outdoors and the camera became a way to preserve that feeling.
"My grandfather died when I was 17, and he left me all his equipment, so I kept learning and refining." At that stage, Flynn's photography was landscapes and party photography for friends, before expanding into local gigs and cycling when his twin brother competed.
On the track, Flynn was the winner of the B-race at this year's NSW 5000m Championships, in a personal best of 15:03.
"It wasn't until I finished high school that I started running and found a really good community in Des Proctors Tri Running Group in Canberra. Once I started with this group, I was exposed to the world of athletics and began to really enjoy following the stories and races of our Australian athletes."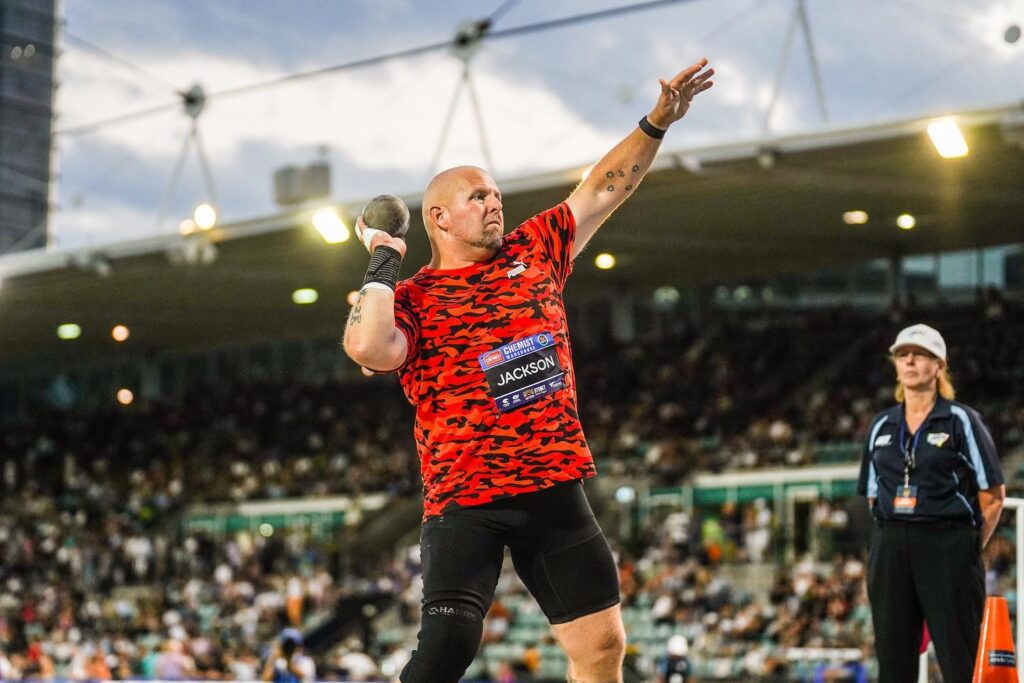 "The photo of Marty at the Sydney Track Classic was a really fun moment to capture," the 21-year-old said.
"There weren't many photographers shooting the field events as the main events that night were on the track. I had this concept in mind about getting the lights of the grandstand in the background of a photo to create a glow around the subject. I tried this with the 3000m races but I needed something a bit more still.
"It was just really lucky that when I wandered over to the shot put, Marty was throwing and I was able to sit and watch a couple of metres away before deciding the right point in the throw to shoot.
"I chose this photo as an entry to the comp because it's different from your standard shot put action shot. I think the lights also add an element of heroicness that makes the image stand out from others. Out of all of my images from Sydney track classic, I feel like it was the best combination of action and emotion so it was an easy choice to put it forward."
So what's ahead for Flynn?
"I competed at my first track nationals this year and am really enjoying being a part of this sport.
"Photographing athletics came about just by me shooting my teammates training session when I was injured. It grew from that into shooting races and for other athletes and brands.
"I was also (and still am) inspired by the new wave of Australian athletics content creators and I believe that the landscape of Australian athletics content is in really good hands at the moment."
You can see Flynn's coverage of the 2023 Sydney Track Classic here on our website. You can follow his other work at flynnhopkinsphotography.com and on Instagram via @the.athlete.collection