Photos by Michael Thomas for Inside Athletics
National javelin champion Mackenzie Little has capped off the Australian domestic season undefeated, taking victory ahead of world champion Kelsey-Lee Barber at the Brisbane Track Classic.
Little threw a new personal best of 62.79m to Barber's 56.66m.
"I'm really excited with how I competed today despite the conditions," Little said, of the wet Brisbane track.
"I want to be there at all the major finals and to be throwing like I did today, so I'm just excited that on any day I can come out and do my best," Little said.
Despite not having the world championships qualifying standard of 64.00m, Little is a virtual certainty to qualify by her World Athletics Ranking,. Her domestic season also included:
Started with a 56.56m victory at the NSW Championships
A 61.13m victory over Barber at the Melbourne Track Classic
Claiming her first national title in 62.09m (with Barber having to sit out the competition due to COVID isolation rules)
The rain soaked track and weaker than possibly fields took some of the shine off the meet, which had in recent years been the pinnacle one-day meet on the domestic calendar. Nonetheless, a star of the future in Torrie Lewis shone brightly, capturing the 100m/200m sprint double.
The 17-year-old clocked 11.37 (+0.2) and 23.18 (-1.6), with the latter being an equal personal best. Success at the World Junior Championships is in the forefront of Lewis's mind.
"I definitely want to make the final in both events (in Colombia) and depending on how I am with my form, hopefully be in medal contention.," she said.
Erratic winds prevented the possibility of a new personal best for national champion Jake Doran, with the men's 100m enduring a 1.5 m/s headwind, despite the direction of running being reversed and previous races having a tailwind. Doran took line honours in 10.28 seconds, ahead of New Zealand's Edward Osei-Nketia (10.3) and Jacob Despard (10.41).
Peter Bol claimed victory in the 800m in 1:46.12, with the results (James Preston second, 1:46.38; Brad Mathas third, 1:46.50) not a full reflection of the Olympic fourth placegetter's dominance as he eased down.
"This is where it starts, you have to win races here to be able to go out there and win overseas. Brisbane is one of my favourite places and it's nice to be back in Australia racing again, in a month's time we are back overseas," Bol said.
"I didn't really worry about the conditions. Rain or not, wind or not, I came out here and treated it as a training session – that's when you run the best. Conditions weren't ideal but race-wise it was ideal," Bol said.
Training partner Bendere Oboya overcame the disappointment of being knocked out in the heats at the Australian Championships, with a front running victory in 2:03.10 ahead of Tess Kirsopp-Cole (2:03.15) and Sarah Billings (2:03.50).
Chris Mitrevski leapt to 8.06m (+0.8) in the long jump, securing valuable World Athletics Ranking Points, which will be relevant for world championships selection should he not meet the 8.22m qualifying standard (he jumped a wind-legal 8.21m at nationals).
Christopher Douglas produced a new personal best over the sprint hurdles, claiming the scalp of national champion Nick Hough in the 110m hurdles. Douglas clocked 13.65 seconds to Hough's 13.68 seconds, run into a 0.4 m/s headwind. The performance rockets him to 7th on the Australian All-time list.
Liz Clay prevailed in a tight 100m hurdles, winning in 13.02 seconds (-0.9) from Celeste Mucci (13.05).
New Zealand's Rosie Elliott took out the 400m in 52.83 seconds ahead of 400m hurdler Sarah Carli, whose 52.90 second run was a PB over the flat. Japan's Kaito Kawabata edged out Alex Beck in the men's event, 46.35 to 46.38.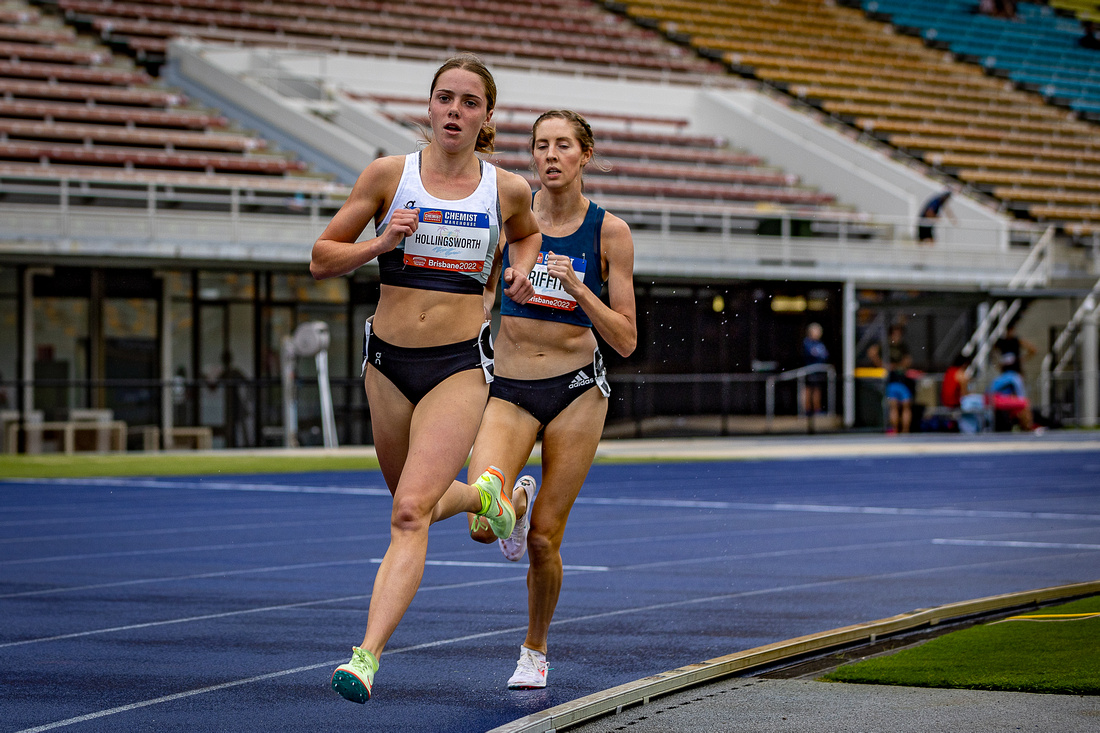 Olympian Georgia Griffith took out the 1500m in 4:10.33 ahead of junior Claudia Hollingsworth, who ran a new personal best of 4:10.61.
National bronze medallist Callum Davies was victorious in the 1500m in 3:40.67, with Jude Thomas second (3:41.11) and New Zealand's Samuel Tanner third (3:41.18).
The podium from the Australian Championships was replicated in the 200m, with Aidan Murphy (20.89), Jake Doran (20.95) and Calab Law (21.03) filling the top three places in a race run into a 0.8 m/s headwind.
In other results:
In the shot put Damien Birkinhead avenged his national championships defeat with a 19.28m win, with national champion Aidan Harvey second in 19.05m.
Joel Baden won the high jump on a count back from Yual Reath, with a winning height of 2.22m.
Cameron McEntyre won the men's javelin in 79.26m.
Japan's Sumire Hata won the long jump in 6.42m (+1.6), with Emelia Surch the best Australian (2nd, 6.22m +2.7).
Photo Gallery
Check out a gallery of over 400 photos from the meet, courtesy of Michael Thomas. >> Photo Gallery.
Free downloads when you subscribe to our mailing list.
Latest posts: