Ten Australians have finished 2022 ranked within the Top 10 in the world according to the World Athletics Rankings.
The World Athletics Rankings, based on an average of performances that take into account the overall quality of performance and the placing achieved in different standard competitions, are now embedded in the selection process for world championships and Olympic Games, with approximately half of the field in each event selected based on the rankings, with the other half requiring tough qualifying performances.
They are also an objective measure of performance, compared to the subjectivity of some other merit based end of year lists.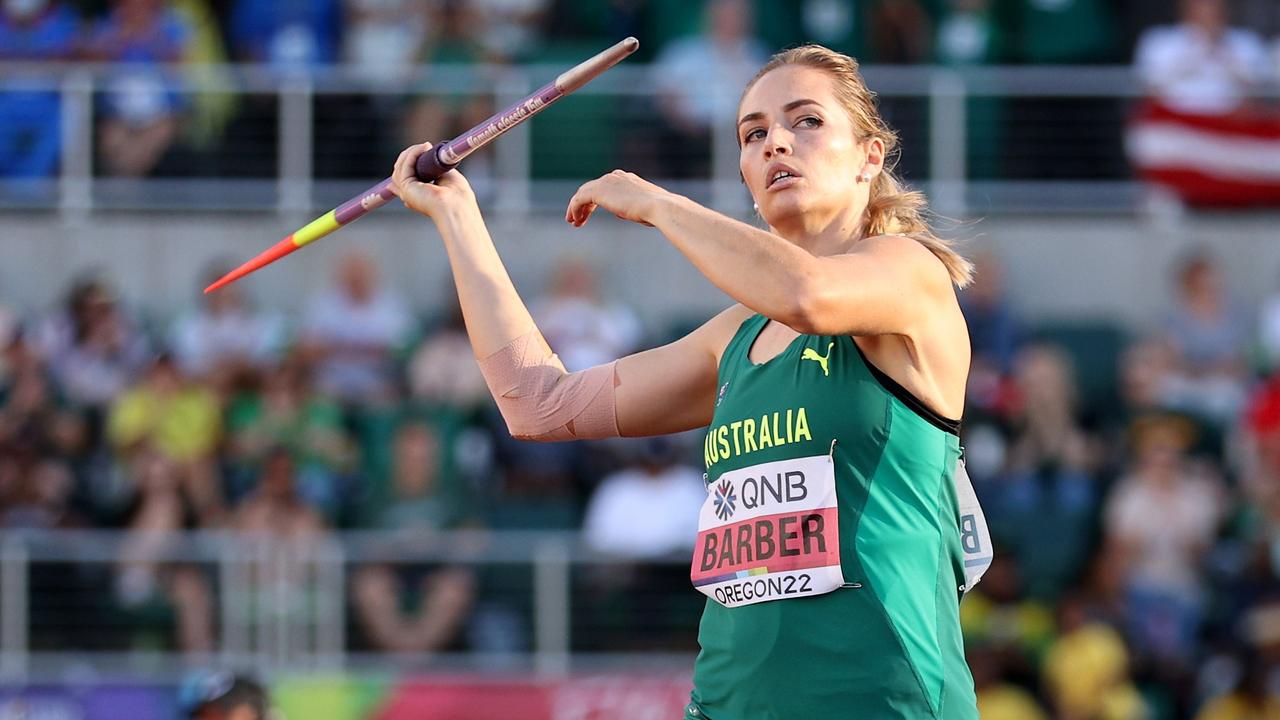 World Champion high jumper Eleanor Patterson and javlelin thrower Kelsey-Lee Barber are the top Australians, ranked second in their events, along with pole vault world championship medallist Nina Kennedy. Behind them, Nicole Olyslagers and Mackenzie Little each share fourth spot in the high jump and javelin respectively, for the only events where Australia has two athletes ranked in the top 10.
Jemima Montag is ranked 3rd in the 20km walk, with Rebecca Henderson 15th.
In the men's 1500m, Ollie Hoare finished the year ranked 5th, while Stewart McSweyn was 11th.
Discus thrower Matt Denny was ranked 6th come year end.
Brooke Buschkuehl was 9th in the long jump, but her 7.13m leap just prior to the World Championships was the longest jump in the world in 2022. Other Australians with individual top 10 performances were Eleanor Patterson (2.02m, 2nd), Kelsey-Lee Barber (66.91m, 2nd), Jemima Montag (1:27:27, 4th), Nina Kennedy (4.81m, 5th), Ollie Hoare (3:30.12, 5th), Stewart McSweyn (3:30.18, 6th; and 12:56.50, 10th), Nicole Olyslagers (1.96m, =9th), Mackenzie Little (64.27m, 9th) and Peter Bol (1:44.00, 9th).
Looking at athletes in the Top 20 for World Rankings, a further six Australians are listed. The women's event where Australia has the most depth is clearly the 1500m, with Jessica Hull ranked 10th, Georgia Griffith 14th, Linden Hall 16th and Abbey Caldwell 26th. On the men's side, the Decathlon sees Cedric Dubler 8th, Daniel Golubovic 13th and Olympic medallist Ash Moloney 15th.
Long Jumpers Chris Mitrevski (11th) and Henry Frayne (13th) also scored top 20 rankings, along with Catriona Bisset (13th, 800m), Peter Bol (14th, 800m), Kurtis Marschall (16th, Pole Vault), Declan Tingay (11th, 20km Walk) and Joel Baden (20th, High Jump).
Interestingly, new Australian marathon record holder Sinead Diver finished the year only the third ranked Australian marathoner at 98th in the world (with 12th places in the Valencia Marathon and London Marathon in times of 2:21:34 and 2:27:16). On the World Rankings, Jessica Stenson was 89th (with her Commonwealth Games victory in 2:27:31 and 9th at the New York Marathon in 2:27:27), while Eloise Wellings was 92nd (with 6th in Nagoya in 2:25:10 and 4th at the Commonwealth Games in 2:30:51).
New Australian men's marathon record holder, Brett Robinson, was 86th in the world, based on his 2:07:31 fourth place in Fukuoka and 2:09:52 for eighth in the London Marathon.

Top Ranked Australian in each event
Based on World Athletics Rankings at 27 December 2022.
| | | |
| --- | --- | --- |
| Event | Name | Ranking |
| 100m | Bree Masters | 60 |
| 100m | Jake Doran | 36 |
| 200m | Ella Connolly | 36 |
| 200m | Aidan Murphy | 30 |
| 400m | Jessica Thornton | 144 |
| 400m | Alex Beck | 43 |
| 800m | Catriona Bisset | 13 |
| 800m | Peter Bol | 14 |
| 1500m | Jessica Hull | 10 |
| 1500m | Ollie Hoare | 5 |
| 5000m | Rose Davies | 37 |
| 5000m | Jack Rayner | 34 |
| 10000m | Rose Davies | 40 |
| 10000m | Jack Rayner | 41 |
| 100m hurdles | Liz Clay | 21 |
| 110m hurdles | Nick Hough | 25 |
| 400m hurdles | Sarah Carli | 22 |
| 400m hurdles | Conor Fry | 124 |
| 3000m steeplechase | Amy Cashin | 25 |
| 3000m steeplechase | Ben Buckingham | 53 |
| Long Jump | Brooke Buschkuehl | 9 |
| Long Jump | Christopher Mitrevski | 11 |
| Triple Jump | Desleigh Owusu | 64 |
| Triple Jump | Ayo Ore | 45 |
| High Jump | Eleanor Patterson | 2 |
| High Jump | Joel Baden | 20 |
| Pole Vault | Nina Kennedy | 2 |
| Pole Vault | Kurtis Marschall | 16 |
| Shot Put | Lyvante Su'emai | 118 |
| Shot Put | Damien Birkinhead | 78 |
| Discus | Taryn Gollshewsky | 31 |
| Discus | Matt Denny | 6 |
| Hammer | Alexandra Hulley | 30 |
| Hammer | Ned Weatherly | 76 |
| Javelin | Kelsey-Lee Barber | 2 |
| Javelin | Cameron McEntyre | 21 |
| Heptathlon | Tenielle Crase | 22 |
| Decathlon | Cedric Dubler | 8 |
| Marathon | Jessica Stenson | 89 |
| Marathon | Brett Robinson | 86 |
| 20km Walk | Jemima Montag | 3 |
| 20km Walk | Declan Tingay | 11 |
| 35km Walk | Kelly Ruddick | 35 |
| 35km Walk | Rhydian Cowley | 21 |


Recent Posts: