Photos by Steve Christo for Athletics Australia
Jake Doran and Zoe Hobbs recorded the fastest ever 100m times at an Australian Championships in winning the blue-ribband events on Friday night.
Doran stopped the clock at 10.05 seconds, aided by a 3.7 m/s tailwind, to score an emphatic victory and bolstered his chances of world championship selection by scoring significant World Athletics ranking points.
The 21-year-old from Townsville beat home New Zealand's Edward Osei-Nketia (10.17) while a photo finish separated Joshua Azzopardi and Jack Hale for silver and bronze medals in the Australian championship, with both clocking 10.20 seconds.
"This is really hard," said Doran.
"We run in a straight line but there is a lot that goes on for it. Talent speaks but hard work speaks more, and we are working hard in Townsville."
In the women's race New Zealand's Zoe Hobbs twice lowered the meet record previously held by Sally Pearson at 11.23 seconds, running 11.19 (+4.5) in the semi-finals before taking line honours in the final in a legal 11.17 seconds (+1.1.
Behind her Ella Connolly captured her first open national title with an 11.29 second run, while Bree Masters (11.33) and Mia Gross (11.43) rounded out the podium.
Matt Denny overcame an injury scare last month to take victory in the discus with a throw of 62.79m, and with it, gained automatic selection to the World Championships and Commonwealth Games.
"I was doing a 160kg eccentric bench press and something happened and it fell directly on my chest and chocked me," Denny said.
"It was the scariest thing that's happened to me, but I'm very fortunate that I didn't get any serious injuries and I didn't get any crush injuries in my chest or break any ribs or get a punctured lung."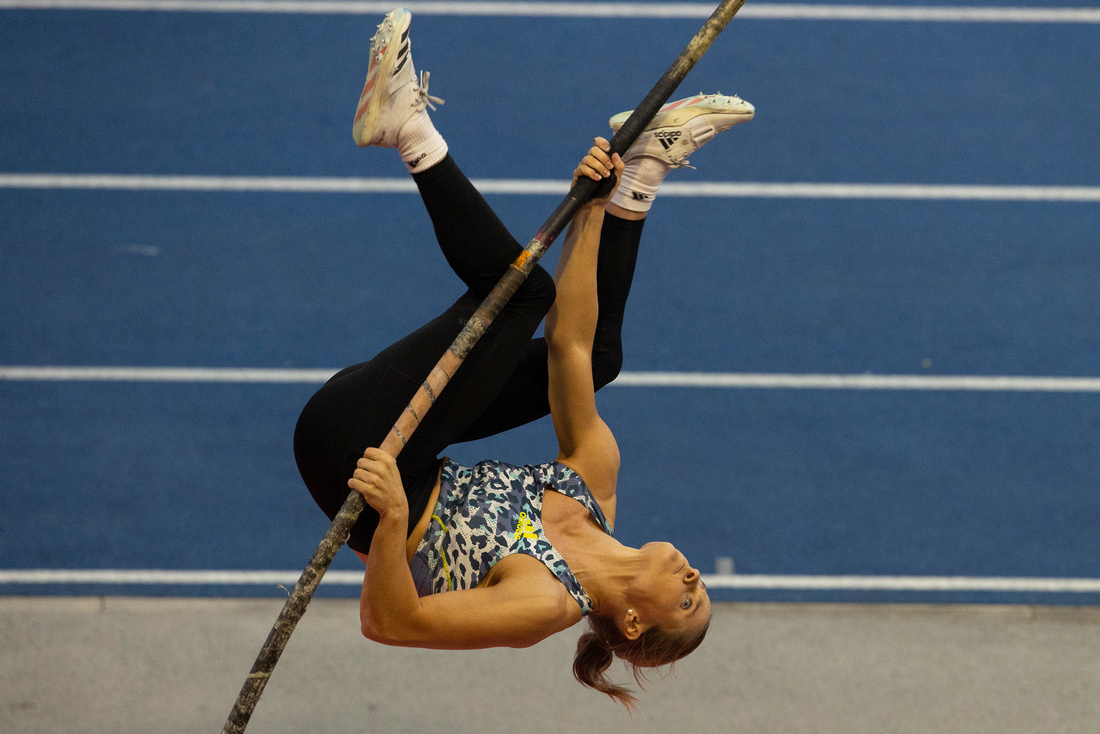 Competing off a short run-off, Nina Kennedy retained her national title in the pole vault with a best clearance of 4.35m. Like Denny, she already had the world championships qualifying mark in hand coming into the meet, and has now secured her place on the Australian team for Oregon and Birmingham.
Sharing the silver medal with a best leap of 4.20m were Jamie Scroop and Elizaveta Parnova.
Ollie Hoare dominated the men's 1500m, winding up the pace over the final two laps to shake off a dogged run from Matthew Ramsden (second), while Callum Davies from Queensland was rewarded with bronze after bravely following Hoare and Ramsden when a break was made.
With the win Hoare is an automatic selection for the world championships, which will take place at Hayward Field in Eugene, Oregon.
"Tokyo was an absolute privilege. It was my first time ever representing Australia in anything so to represent at the Olympic Games and in an Olympic final was a huge privilege," Hoare said, whose winning time was 3:40.79.
"But Hayward Field (at the University of Oregon) has a special place in my heart. For me, as an athlete, that's where I took that step up to becoming better and it's going to be exciting wearing the green and gold there and showing the Americans what we can do."
Abbey Caldwell went one place better than the 2021 Australian championships, scoring an upset defeat in the women's 1500m over Olympic finalist Linden Hall.
Caldwell (4:10.75) and Georgia Griffith (4:11.26) kicked hard over the final lap, leaving Hall in third place in 4:12.44.
The win will go a long way for world championships selection for 20-year-old Caldwell, who will gain significant World Athletics Ranking points for the victory.
In other events:
Mackenzie Little won the javelin in 62.09m.
Alex Beck retained his 400m title in 46.41 seconds.
Isabel Neal from New Zealand was first home in the women's 400m in 52.86 seconds, with 19-year-old Ellie Beer winning the Australian title in 53.30 seconds.
Alexandra Hulley won the hammer throw in 67.51m.
Yual Reath took out the high jump in 2.20m.
Strong tailwinds greeted the triple jumpers, with Ayo Ore (16.64m, +2.9) and Uzbekistan's Roksana Khudoyarova (13.54m, +3.2) taking out the competitions. Kayla Cuba (13.51m, +4.5) won the women's Australian title, while Victorian junior Aidan Hinson (16.32m, +4.4; 16.16m legal) was a notable third in the men's event.
Emma Berg won the shot put in 13.87m.
Photo Gallery
A gallery of photos from Day 7 of the Australian Championships are available here. Photos from earlier days of the meet are available here.
Photos are free to download when you subscribe to our mailing list.
Recent posts: