A couple of weeks ago we launched two surveys to understand how much members of the Australian athletics community value streaming of the sport, internationally and domestically. With over 400 responses to each now received, we share the results.
Interested in all of the stats and data? Read on!
Want to cut to the chase and consider the possibilities that could come from a paid domestic live stream? Click here to jump to that part of the article.
Onto the stats…
Before we get started, it's worth acknowledging that there's some clear biases in the survey results: visitors to our website are likely amongst the most engaged people in the athletics community, and their views are unlikely to be representative of everyone who follows the sport. So we offer these results as a conversation starter, rather than as market research of the quality that you'd undertake before launching a new product.
There's also a clear difference between what is accessible currently between international and domestic coverage. International athletics is hard to follow live (FloTrack having streaming rights for World Athletics Continental Tour meets at USD$30/month; FoxSports with Diamond League), while most main domestic meets are streamed at no cost. Both likely shape respondents initial expectations and responses.
What we asked
In both surveys respondents were given a description of a product and then asked if they would purchase it on a subscription basis at $9.95 per month. Those who answered 'yes' were presented the same question with a price point of $14.95 per month. Those who answered 'no' were instead asked if they would purchase at the lower price point of $4.95 per month; and if another 'no' was received, whether they would subscribe for free, providing their email address.
Here's the specific questions:
International Stream
A live streaming service, with full event replays, that gave you access to each meet of the 12 World Athletics 'Gold' Continental Tour meets, 14 Diamond League meets and World Championships events. The product would require a monthly subscription, that you could cancel at any time.
Would you purchase this product at a price of AUD$PRICE per month?
Domestic Stream
A live streaming service, with full event replays, that gave you access to every meet across Australia featuring national championship level athletes: from specialty meets, to relevant interclub meets, to AA Tour meets, State Championships and Nationals. The product would require a monthly subscription, that you could cancel at any time.
Assuming there was no other way to access these streams, would you purchase this product at a price of AUD$PRICE per month?
What the results say
We've plotted the results to show the relative level of demand at each price point.
There's very high levels of demand at both the $9.95 and $14.95 price points for an international streaming product. We've also extrapolated the results, which suggests nobody being willing to pay more than about AUD$23 per month (making FloTrack's current offering of USD$30 per very unappealing).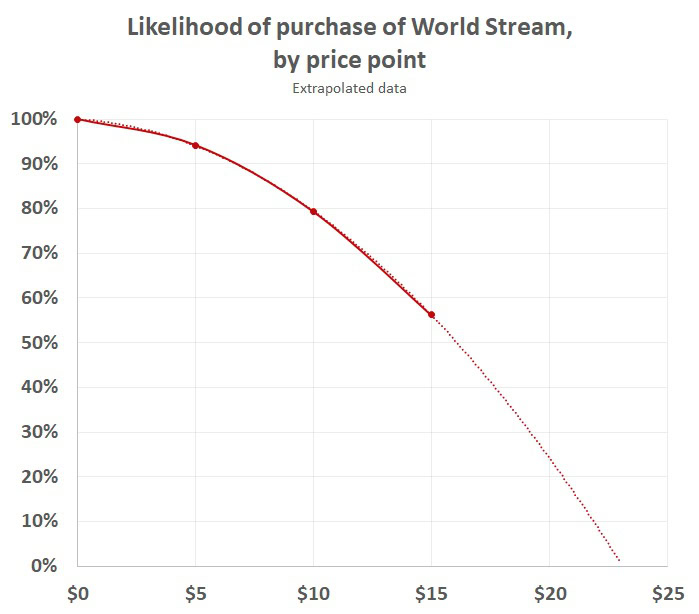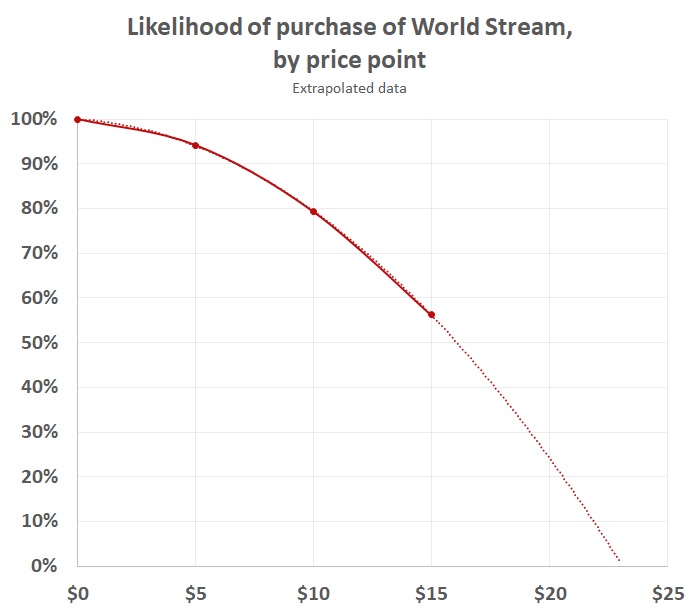 If you were a business looking to offer this service, revenue would be maximized at a $14.95 offering for an international stream and $9.95 for a domestic stream. But revenue comes at a cost: to the size of the viewership.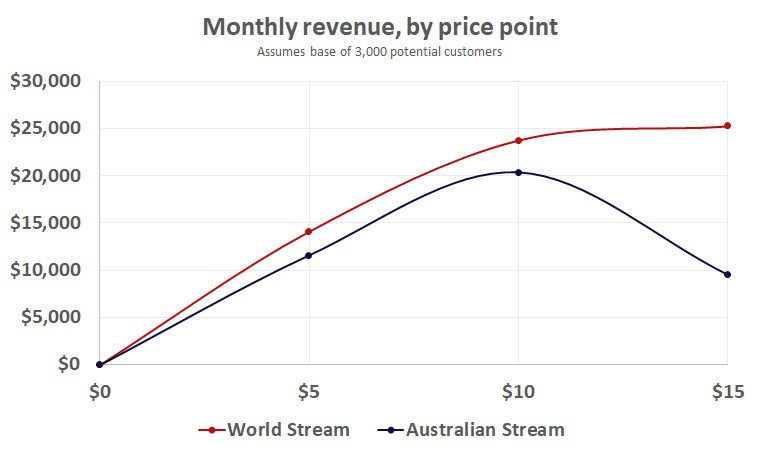 Looking deeper at a domestic athletics product, 68% of respondents indicate that they would pay $9.95 per month for a domestic streaming service. Cutting that price in half to $4.95 only sees another 9% indicating they would pay, while at a higher price of $14.95 only one-in-five people would subscribe. There's clearly an element of people who don't want to pay, and few that will pay very much. It could be that respondents are anchored to current practices and/or expect that Athletics Australia, Athletics NSW etc should provide a live streams free of charge as part of their remit to promote the sport. Or they might value the product delivered far less than world class international competition. Or a bit of both.
What are the possibilities for a domestic livestreaming product?
We started off the surveys intrigued by a world streaming product (or rather, frustrated that there isn't a viable one!). It's something that sorely missing globally, especially when you consider offerings in other sports, such as Tennis TV (non Grand Slam action, at $19.99 per month) and TriathlonLIVE ($45.99 per year). World Athletics' rights it with FloTrack, who aren't priced at a level that consumers are willing to pay.
But let's consider things closer to home and the possibilities in Australian athletics.
There's obviously a range of broadcast models that sports can explore: selling rights to free-to-air and pay TV, paying for broadcast costs and supplying content to a broadcaster (in the hope of selling sponsorship against a large audience it will reach) etc. We're talking about something more niche here, to cater for athletics tragics – essentially the (only) people who watch livestreams of the sport currently.
Let's assume a product such as the one we described in the survey – essentially all of the action domestically that you want to watch – could be coordinated for a domestic steaming product. It would require someone to aggregate the content from the various organisations/providers that produce content currently. That would require some upfront work… sporting organisations aren't always aligned in their endeavours.
Using the live streaming audience for the Box Hill Classic (~3,000 people) as the base for people who might consider purchasing this type of product, and keeping 15% of the revenue aside for admin/marketing expenses, there would be the potential for $85,000 new revenue to be raised by the sport annually over the 5 month period of the domestic season (December to April). In some ways this isn't a huge amount of money in the scheme of things, but focused, it could provide new opportunities that start to change the dynamics within our sport.
Except in Queensland, live streaming is already a delivered for most important meets of interest with costs that are already absorbed by the sport. So, for what could the additional revenue be used? For us, the obvious answer is paying the talent that ensures there's a consumable product i.e. the participating athletes.
With an estimated 750 athletes that participate in open events at the Australian Championships, that's only around $110 each per athlete per year if it was to be shared equally… maybe enough to cover the cost of their annual state rego, depending on where they live.
Or would additional funds instead be better directed at a $1,700 grant to each of the ~50 athletes making the Australian junior team?
Or funding an additional role in the sport – perhaps one that was solely focused on advocacy for athletes and improving the commercial outcomes they receive from their time in the sport?
Alternatively, and perhaps best aligned to delivering a streaming product, would be to reward the highest quality performances delivered in live streamed events? Perhaps a monthly prize pool such as below, with performances ranked using the World Athletics Scoring Tables.
1st $5,000
2nd $4,000
3rd $3,000
4th $2,000
5th $1,500
6th $750
7th $500
8th $250
Of course, as we've mentioned, the significant downside to putting the sport behind a paywall is that the audience reach is decreased from what it otherwise would be, if events are streamed at no cost to viewers. From the above data – which again, we suggest you take with a grain of salt – approximately one-third less people would view the sport. Additionally, there could be other revenue models, such as a pay per view model per meet, that could be more viable and find a better balance between generating new revenue and having audience reach.
What are your thoughts on all of the above?
Would you actually subscribe to a domestic athletics stream product?
Would you prefer to pay per meet?
Or expect that it will always be free?
Would where revenue ends up affect your decision?
Join the discussion on our Facebook page.
Need to sharpen up with new spikes? We can help you out, with fast and free delivery.
Latest posts: